"Sailor Vie" Hartley Tahitian 45 ft Centre Cockpit Ferro Cement Sloop
Sold in April 2001. The end of a twenty year dream. We built the boat with the intention of sailing to Europe and retiring to a cruising life. Illness and overweight reduced our ability to manage the physical effort. Weekends afloat to finish the details became relaxing social, fishing afternoons and the maintenance backlog rose faster than the working time devoted. We hoped that the new owner will realise his dream through Sailor Vie and it would be cruising UK waters four years later.
Memories remain of lazy weekends on the harbour when we pretended to work on the fit-out but fished for crabs and bream and chatted with friends.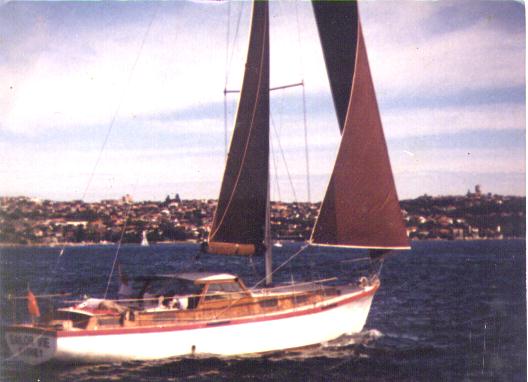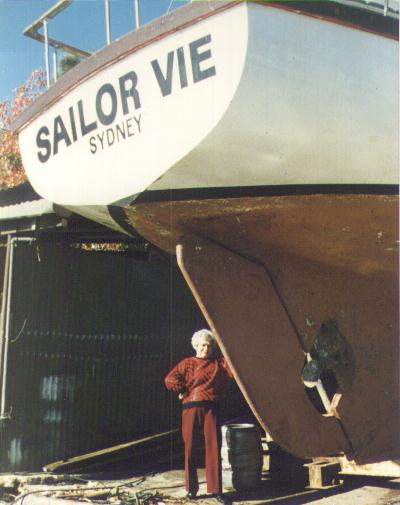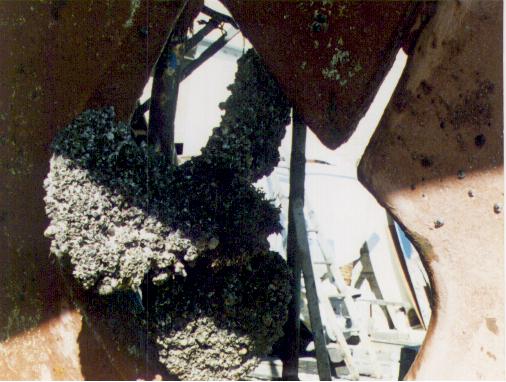 <>


<>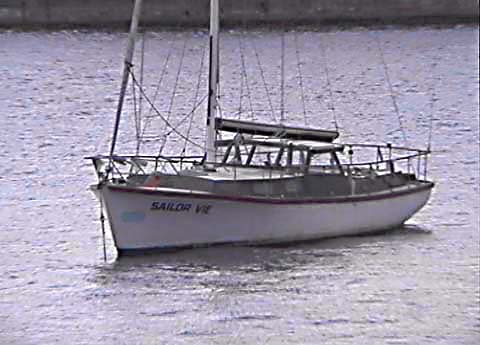 Location
Swinging Mooring – Mort Bay Balmain Sydney
Construction Begun 1977, Launched 1982 Owner Built
Inventory

Keel Internal - Lead
Cabin - Thai Teak and Brazilian Walnut
Roof – Dynel, laminated marine ply on Queensland maple laminated beams
Cast Deck Fittings
Plough Anchor – S&L Manual Winch -100 metres chain
Mast – Aluminium – Internal Halyards
Boom - Hood roller reefing system
Boom Vang – McIntyre Marine
Foresail – Hood furler
Sails Hood Main and Jib in Brown Bainbridge Cloth
Hood MPS in Dacron
Winches - Barlow
Standing Rigging – Stainless- Twin Back stays
Hatches - Goiot
Ventilators - Solar
Engine – Ford 6cyl Diesel Marinised by Brown Bros Balmain
Propellor – 3 Blade bronze
Auxiliary Diesel – Honda 15 HP twin Diesel driving 240 v 7.5 kva alternator
Deck Pump
Depth/Speed/Log – Brookes and Gatehouse
CB Radio
Autophone VHF
Dickenson Diesel Cooking stove/Oven/ Water Heater/ Cabin heater
Solar charging 2 –42 watt panels with regulators
Freezer – components only
Desalinator- McIntyre Marine Power Survivor
Toilets – Aft sealed to flexible tank
Hot Water Showers
Avon Dinghy and Mercury Outboard
Windows - Lexan and laminated glass
Steering – Hydraulic – Cetrak Autopilot
Compass - Danforth
3 Batteries
Water Tanks – Flexible-200 litres
Fuel tanks steel 2 X 400 litres
Bilge pumps Henderson and Jabsco
Sea Cocks - Bronze
LifeBuoy and Lifejackets
Teak rail –s/s staunchions
Accommodation
Forward
Anchor locker
2 berths
Hanging Locker –Heads with hot shower
Midships
Teak dining table and settee berth in Main cabin
Double berth guest cabin with hanging locker
Galley with sink stove etc.
Wheelhouse
Engine under floor
Auxiliary in locker
After Cabin
Navigatorium
Aft heads (sealed)
Double berth and settee berth
Stern
Large locker
And the last views at Easter 2001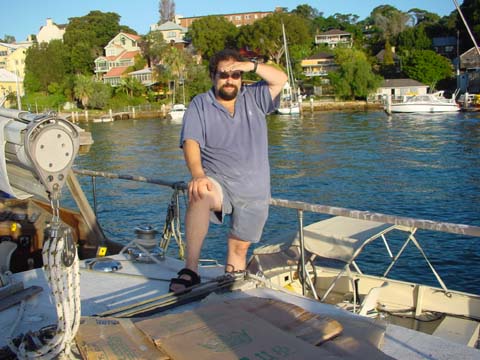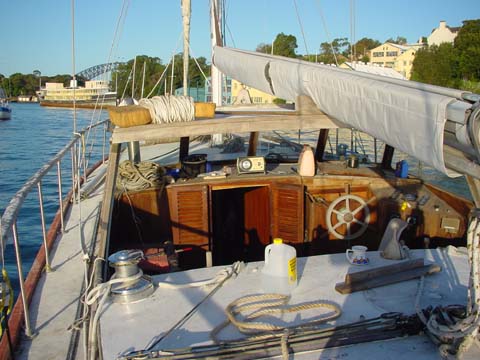 Julien who organised the sale and the view from our mooring in Balmain looking towards the Sydney Harbour Bridge

Terminé samedi le 12 Août 2006